Quick Tip
Take up FSL11 Series Challange with a twist of fantasy auction. FSL11 is giving you feel of auction on every series that is being played.
Grab the opportunity to create your favourite team by bidding highest on your choice of players once bought will not be available for other players to pick on the squad.
Do not wait long now bring the Season home !!
How to play Fantasy Auction in 6 simple steps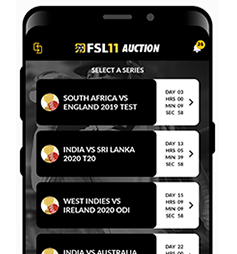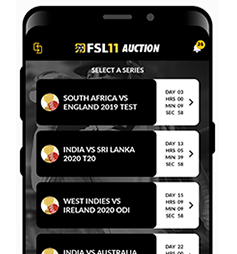 1
Pick a Series
Pick any upcoming series of your choice.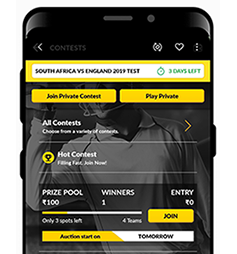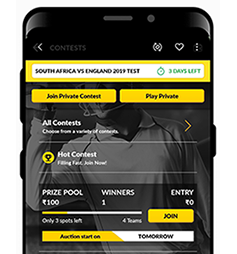 2
Pick Time to Battel
Participate in Cash or Practice Contests and pick auction time schedule based on your suitable time to play.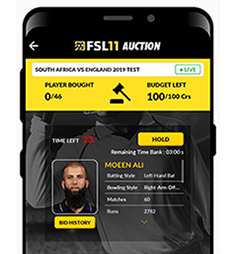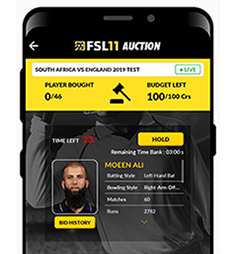 3
Fight for your Guy
Bid on your favourite player and compete with your auction pool while auction is in play.
1. Auction Assistant :
Do not miss your players, Create your wishlist before auction starts with your auction assistant. Even if you are not available to play,your assistant will bid on your behalf in auction.
2. Auction Screen :
Raise Bid: This button helps you raise bid on current player
Hold: You can hold the timer based on your available time bank to make a decision to buy the current player for auction.
Resume : Once you have hold the time you can resume back to auction by pressing resume button.
Bid History: Displays the history of bid that has already made on this player by others.
Time Left: Displays time left to make decision to raise the bid for a single player available for auction.
Remaining Time Bank: Displays how much time bank your left with for whole auction.
3. Auction Leader Board:
Watch your Team score through out the series.Screen Displays your ranking and point updates every match.
Keep your winning streak on !
4. Auction Order :
Order in which Players are coming for auction can be seen on this screen.
5. Auction Budget:
All your competitors available budget is displayed on this screen so you can plan your strategy to bid ahead in the game.
6. Auction Squad :
List of players bought by you during auction are displayed on this page along with credits in which they are bought.
7. Auction Submit Team:
Once auction is over submit your squad by picking your best 11 from players bought by you during auction.
Choose a captain and Vice Captain from your Best 11 Squad & Submit the team to play the series.
Captain gets 2x points and Vice Captain gets 1.5x points during the whole series.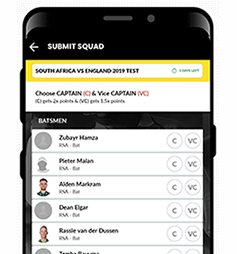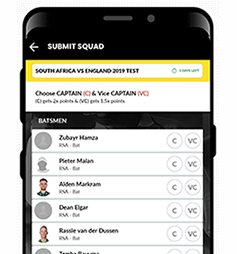 4
Build your Team
Create your own favourite squad of 11 players from Players bought by you and submit your team.
5
Let the Battle begin
Stay tuned to every match of series and track your Fantasy points scorecard to know your real time position.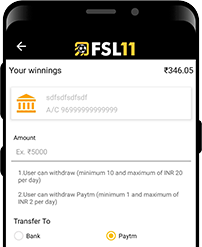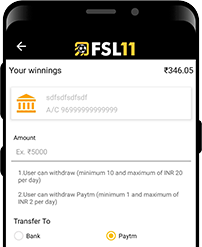 6
Withdraw your Winnings
Win the prizes for highest scoring line up through out the season & Withdraw your winnings from your FSL11 verified account instantly.
(One time verification is required.)